Discover more from Almostwild
Exploring nakedness through a cultural, historical, and social lens
A World Naked Learning Moment
How Naked Cyclists and Nude Gardeners Can Inform the Nudist Movement
Taking place annually on the first Saturday in May, World Naked Gardening Day came and went last month as it does every year: with increasing enthusiasm from nudists and non-nudists alike. It's one of a handful of similar "World Naked" holidays and events with a similar aim: Getting people to get naked doing something they already enjoy. In the case of World Naked Gardening Day, it's as much a day to appreciate gardening as it is to celebrate body freedom, and if you search the hashtag on Instagram or Twitter, you might be surprised how many of the posts are from folks who wouldn't ever call themselves nudists or naturists, who might have never stepped foot in a nudist resort or might never join a nudist organization, but who wouldn't waste an opportunity to have a little fun and post thirst-traps with their houseplants and garden tools. Anything to try something new, throw off their clothes, and make the social media censors short-circuit. And I love that! So how can the nudist community replicate it?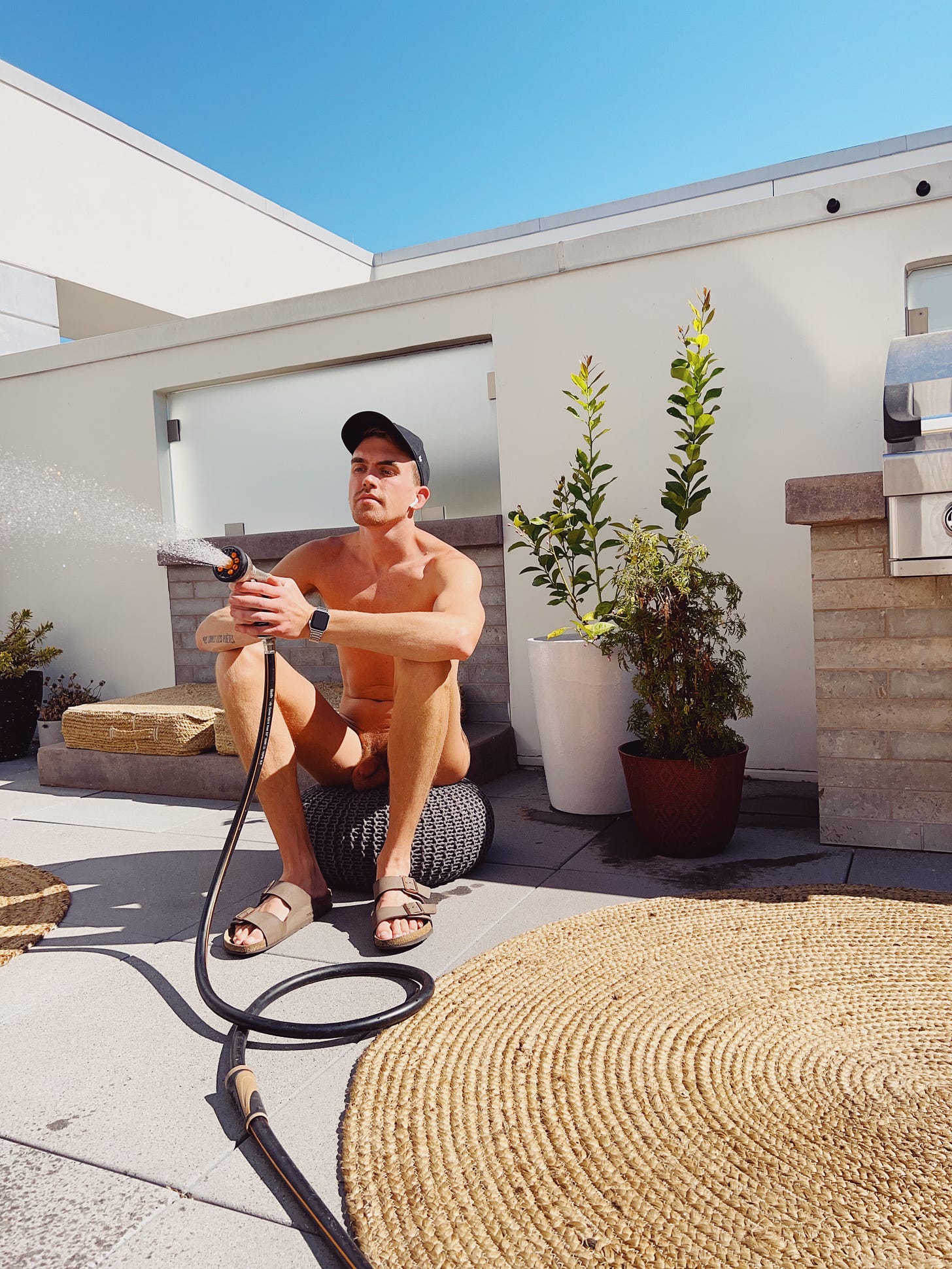 I'll be quite honest, there was a time when I wasn't completely sold on World Naked Gardening Day, for no other reason than that it seemed specially tailored to those who... well... have a garden, a home, free time, privacy. In short, it felt like a made-up holiday that leans into the stereotypes people might have of nudists: that they're primarily older, retired, middle-class, rural and suburban homeowners. As a young-ish, apartment-dwelling, nudist urbanite, I don't always see my living situation represented in nudist literature or marketing or photography, and World Naked Gardening Day felt a little like it upheld that tradition of ignoring younger generations of nudists. In hindsight, that was a narrow and bitter perspective. Gardening isn't just about elaborate landscaping, greenhouses, and vegetable plots. It's just as much about potted houseplants, window boxes, and the little herbs people grow on their kitchen counter, and that's what you'll see if you scroll through social media: Plenty of people in their gardens, tending their flowers, lawns, and hedges, but just as many people in their apartments posing strategically with their succulents.
Frankly, maybe I was just salty because I have yet to be able to keep a succulent alive longer than a few months even though everyone keeps saying they're the easiest plants to care for. My apologies to every succulent I've ever bought, may you rest in peace.
While I do enjoy taking time to care for my plant babies in the buff, something else I really appreciate about World Naked Gardening Day is that it explicitly connects human nudity with the natural world, a core tenet of nudist and naturist philosophy since those terms first came into use but which, in the 21st century, can sometimes play second fiddle to hot tubs and coffee selfies. There's a lot wrong with the world, and while some of the world's problems can be remedied by nudism's ethos of body acceptance and human connection, there are also serious issues stemming from our relationship with the planet, the careless destruction of ecosystems, pollution, and limited of access to natural spaces. I'd like to imagine nudists and naturists as active champions of environmental stewardship and sustainable practices, advocates for our parks and trails and beaches, and World Naked Gardening Day feels like a respectful nod to that.
As I touched on earlier, World Naked Gardening Day also successfully taps into something else that the nudist and naturist community could really use: Attention from young people on social media... not just young but diverse and with seemingly balanced participation of men and women. What's different about gardening, and why does it reach such a wide age range compared to other mainstays of the nudist community? Part of it can be chalked up to a miraculous, social-media fueled surge in interest in houseplants among millennials and gen Z, which was noted by a number of news outlets years before the pandemic hit but which was certainly further accelerated by it. Many attribute the plant parenting trend to the economic reality that younger generations face, such as low rates of homeownership, reduced access to their own gardens, and financial insecurity that puts raising a family just out of reach. Regardless of the reason, young people love their plants and the benefits are being felt in more ways than just hashtags on social media.
I know that many nudists love the traction that World Naked Gardening Day has achieved, but if we're looking to be a welcoming community for more and more folks, we can't just revel in the success of the hashtag. We need to learn from its success. The holiday itself was started long before the current plant parenthood trend among young apartment-dwellers, but there's no reason it can't still be a lesson in pinpointing interests, causes, and hobbies that span generations, especially ones that young people have embraced and incorporated into their lives, ones that are not only fun but have a feel-good, positive message. That seems to be the key to the success of both World Naked Gardening Day and its younger, more athletic sibling, the World Naked Bike Ride. While World Naked Gardening Day gives observers a time to connect with and care for a little piece of the natural world, the World Naked Bike Ride promotes human-powered transportation, raises awareness about the vulnerability of cyclists, and challenges fossil-fuel reliance. It's worth noting that by sheer numbers—and because the nudist community is relatively small—both of these World Naked events appear to inspire participation from mostly non-nudists. Also worth noting is that both events aren't just about having fun, they're also about something—making the world a greener place—and I think that strikes a chord with young people who care deeply about the world they're coming into and want to shape it into something better.
So give us a list of more examples! Tell us what to do!
Naked hiking to promote nature conservancy? Naked yoga to promote wellness and meditation? Naked art exhibitions to promote the arts?
Yes, yes, and yes, but hold your horses! A quick list of ideas and solutions can be helpful but it's only going to get us so far. What I'm suggesting is a mindset among nudists and naturists—especially those who are leading the nudist movement and community—that stays tuned into the world around us. There is immense opportunity for nudists when we seek to understand how what we're working towards is connected to the bigger picture, how our values and joys intersect with what else is going on in society and the environment. There's opportunity in recognizing how cultural events like the World Naked Bike Ride and World Naked Gardening Day bring joy and positive change and ignite important conversations. There's opportunity there when we acknowledge that the nudist movement shares more than just nudity with these events, but also an appreciation for the natural world. Seeking to be a part of that change for the sake of creating a better world means that nudists and naturists see themselves as part of the world and are invested in improving it in more ways than just making it more naked-friendly.
If nudists want to join the fun and have an impact, the nudist community would do well to seek out and embrace these moments and opportunities out of a shared belief in a common cause, not—and I say this with the utmost respect—with an agenda just to convert more non-nudists into nudists. The point is this: Let's keep our eyes, ears, and mind open to what positive and impactful trends and causes young people are embracing and we might have a shot at giving them an excuse to have some fun, challenge fears about the human body, make some change... and do it naked. Not only for our own sake but with the goal of being part of public awareness in a positive way, to help people get more comfortable in their skin, to be a force for change, and to have an impact on the culture and misconceptions and stigmas around nudity... and if people end up calling themselves nudists and naturists because of that involvement, awesome! But I'll settle for a greener planet where people are a little less worried about seeing naked bodies and a little more willing to connect with one another. I think that's our goal, after all, isn't it?